Memorial Tribute Page
The Cost of Courage Foundation is proud to provide a place for our guests to honor their loved ones who served in the military. If your loved one was
Killed in Action or is a military veteran who has passed, you can send their photo and a brief description of their service to The Cost of Courage Foundation.
Submissions can be e-mailed to admin@thecostofcouragefoundation.org.
​
No entries will be accepted by mail and no hard copy photos will be accepted or returned. Please DO NOT send hard copy photos.
Though it is not required, we encourage you to make a donation to The Cost of Courage Foundation's Sgt. Donald Fitzmaurice Memorial Scholarship Fund. You can do this by visiting our "Donate" page on this website. For a donation of $100 or more, The Cost of Courage Foundation will send the donor an official The Cost of Courage Foundation baseball cap. The tribute will remain on the page unless a request is made in writing to The Cost of Courage Foundation to remove the content. The submitter will be asked to sign a waiver verifying that all photos are released by consent and the details provided to The Cost of Courage Foundation are accurate.
We look forward to honoring your loved ones!
​
______________________________________________________________________________________________________________________________________________________________

​The Cost of Courage Foundation
Tribute Wall​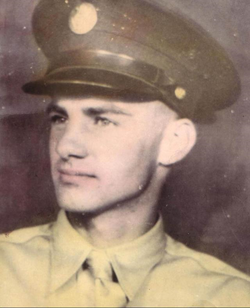 Sgt. Donald Fitzmaurice
Born: March 13, 1919 - Lincoln, NE
KIA: April 18, 1942 - Doolittle Raid

Sgt. Donald Fitzmaurice joined the Army Air Corps shortly after high school and was selected to participate in the famous Doolittle Raid, the first attack on Tokyo following Pearl Harbor. Sgt. Fitzmaurice bravely executed this mission as a crew member of Plane 6 "The Green Hornet" and was Killed in Action when The Green Hornet crash landed in China after running low on fuel. Though he was only 23 at the time he was killed, Sgt. Fitzmaurice is remembered by his surviving family members and his legacy lives on in the form of a scholarship awarded to a deserving Veteran each year.

For his bravery, Sgt. Fitzmaurice was awarded the Distinguished Flying Cross among other accolades.



---