Scholarships


2017 Scholarship Awards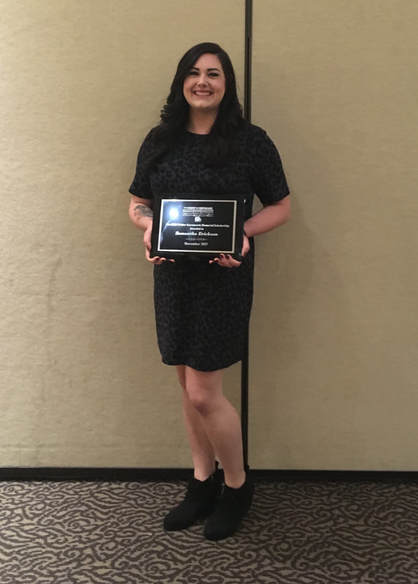 Samantha Erickson
CPO Walter Kaczmarek Memorial Scholarship
​
Los Positas College
United States Air Force Veteran

This year's recipient is Samantha Erickson, a Sophomore at Las Positas College currently majoring in Psychology. Samantha served in the United States Air Force from 2008 to 2014 and was deployed at Bagram Airfield in Afghanistan. She decided to alter her previous plans of pursuing a career in the Air Force believing that her true calling was to become a Veterinarian since she had already earned a certificate in veterinary assisting. After separating from active duty and transitioning into the Reserves, she devoted her time and attention to continuing her education. While in school, Samantha furthered what had been a long history of community service. Growing up, she regularly spoke at City Council meetings and served as a student ambassador representing her town in other countries so it was a natural progression for Samantha to serve the Veteran community on campus. After attending the annual Student Veterans of America conference where she was able to network with other students who had served in the military, she discovered a passion for helping Veterans obtain benefits they may not realize are available. Samantha changed courses once again and became dedicated to supporting those whose shoes she once wore and believes that she has found her true calling in serving those who have served. Reflecting on her time in the Air Force, Samantha noted that it gave her the opportunity to experience what it was like to give back while expecting nothing in return and appreciated the feeling of a family unit that comes within the military and Veteran communities. She currently serves as President of the Las Positas College Student Veterans Organization and hopes to one day obtain a PhD so that she may work in Veteran Research and Clinical Psychology. She acknowledges that the military provided a foundation for her to continue her service as a civilian and to also support those still transitioning out of the military in need of assistance. When we consider applicants for these awards, we do our best to align the recipient with the inspiration for the scholarship. In Samantha's case, it was clear that she embodied the spirit and dedication to service that Chief Petty Officer Kaczmarek exuded in life. He was a truly selfless individual who cared deeply about the Veteran and military community. For this reason, Samantha was an obvious choice and we are honored to support her with her goals and wish her the best in her future endeavors.
​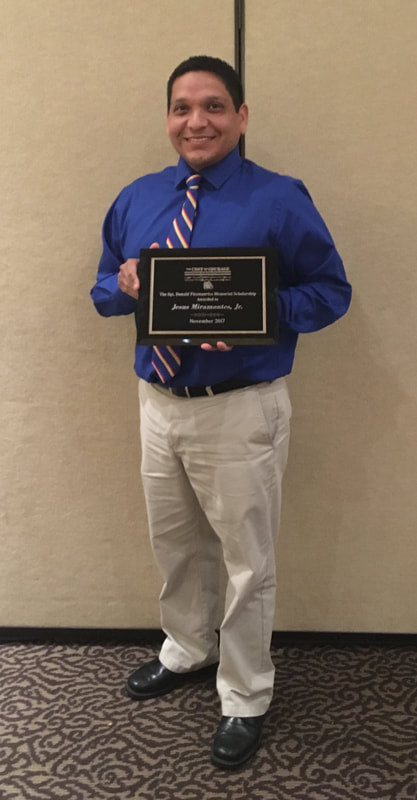 Jesus Miramontes, Jr.
Sgt. Donald Fitzmaurice Memorial Scholarship
​
San Jose State University
United States Army Veteran

We are proud to award this year's Sgt. Donald Fitzmaurice Memorial Scholarship to Jesus Miramontes, Jr. who is currently a student at San Jose State University pursuing a Teaching Credential and Master's Degree in Education. Jesus is an Army Veteran who served a tour in Iraq as an Avenger/Stinger Crewmember attached to the1st Armored Division. Jesus credits the Army Core Values and the experiences he had while serving in the military for his interest in teaching. Like many, Jesus joined the military as a means of affording a college education so that he could become the first in his family to obtain a degree. Jesus turned a passion for soccer into a coaching opportunity after his dream of becoming a professional player was no longer attainable. He earned his coaching license and his service as a youth coach eventually guided him into teaching. His current goal is to become a classroom teacher, with a preference toward the kindergarten to second grade age range. He believes that the skills he learned in the military such as discipline, group management, planning and organization can be directly translated to such a role as he could instill the same values in his young students and hopefully get them on the right path to not only be better students, but also be better citizens. After reading Jesus's essay and gaining an understanding of his passion for education, it was clear that he was the best choice for this scholarship. Sgt. Fitzmaurice had such a love for knowledge and he was a gifted academic but he never had the opportunity to realize his dreams so Jesus's success will pay tribute to his legacy in the best possible way. We have no doubt that Jesus will continue to push forward and meet his goals and we wish him the best in his efforts.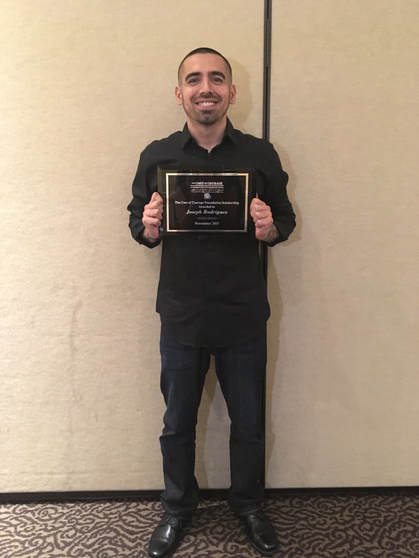 Joseph Rodriguez
The Cost of Courage Foundation Scholarship
​
San Jose State University
United States Army Veteran

This year's recipient is Joseph Rodriguez. Joseph is currently a student at San Jose State University pursuing a degree in Business Administration after serving in the United States Army from 2010 – 2014 where he achieved the rank of Sergeant and was deployed to Afghanistan. He joined the Army as an Infantry soldier and always strived to be the best soldier he could be. During his first deployment to Afghanistan, he was wounded by an IED in the Helmand Province. Despite his injuries and the injuries of his fellow soldiers, they fought for the next 12 hours in a continuous battle. After numerous surgeries and a lengthy recovery, he had an opportunity to reflect on the future of his career. Due to the severity of his injuries, he was moved to the "S-Shop" in his company where he discovered a passion for Human Resources as he was preparing for his own medical retirement while assisting others with leave, pay and ERB's. Though his circumstances were devastating, he found a way to turn his hardship into an opportunity that gave him hope for the future. Since then, he completed his AA Degree at De Anza College and is now pursuing his Bachelor's. He acknowledges that his time as an NCO looking out for junior enlisted soldiers and keeping track of their personal information prepared him for a career in HR and he continues to draw parallels from his experiences in the military with his future career path. The leadership skills and ability to remain calm under pressure and think on his feet that he acquired in the service will prove to be an asset on his path forward.
The most important lesson that Joseph has learned is to never give up. Though he has experienced hardships, he is proud of himself for continuing to move forward in spite of his disabilities. He overcame obstacles and has maintained his drive and determination to be the best in any capacity. For this reason, we are so honored to be able to award this scholarship to Joseph!



​​Scholarship Opportunities

The
Sgt. Donald E. Fitzmaurice
Memorial Scholarship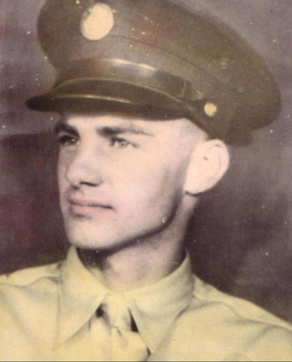 Sgt. Donald E. Fitzmaurice was a hard working and highly respected young man in his home town of Lincoln, Nebraska. In high school, Donald had a passion for sports and a love of learning, earning straight A's and the honor of class Valedictorian. Donald's upbringing was of modest, often poor means and it was necessary for him to work various jobs to help his parents support himself and his younger brothers and sisters. After graduating high school, Donald's dream was to attend college and achieve an advanced degree in Agriculture, but this would cost money that the family didn't have. Donald's sense of self reliance lead him to volunteer for the Army Air Corps where he could earn money to help his family and work towards his college education.

After Pearl Harbor was attacked on December 7, 1941, Donald's experience as a B-25 gunner-engineer was called upon when he was selected to be a part of a mission now known as the Doolittle Raid. He and 79 other airmen agreed to participate without even knowing what the mission entailed. On April 18, 1942, the Doolittle Raiders lead the first retaliatory attack on Tokyo, Japan since Pearl Harbor.

Unfortunately, not everyone came home. Donald and another member of his crew were killed when his plane, The Green Hornet, ran out of fuel and crash-landed on a beach in China, while the remaining crew-members were taken prisoner by the Japanese. For nearly five years, Donald was buried on the China Coast until the only surviving POW from his crew, Lieutenant Chase Nielsen, was rescued and able to arrange for a proper burial at Golden Gate National Cemetery where Donald rests today.

For his service and sacrifice, Donald was awarded the Distinguished Flying Cross among other accolades.

In honor of his distinguished memory and his love of education and desire to succeed, The Cost of Courage Foundation will award educational scholarships to deserving service veterans and their families in his name.

​The
CPO Walter J. Kaczmarek
Memorial Scholarship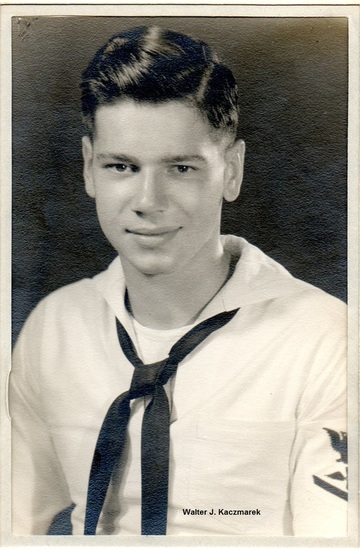 Chief Petty Officer Walter J. Kaczmarek USN, Retired
June 18, 1924-January 11, 2016

Walter grew up poor in Hartford, Connecticut, he was the oldest of four children. At the age of 13, Walter's father walked out on the family. Walter became the man of the family that day. He began working every day after school and every Saturday and in return he received a couple of bags of groceries a week to help support his mother and three siblings. Even with this burden Walter applied himself and was chosen class Valedictorian. In 1942, at the age of 18, Walter enlisted in the U.S. Navy where he spent the next 22 years of his life.

Walter's time in the Navy spanned three wars, WWII, Korea and Vietnam. During that time he flew supply missions all over the world. Walter took his job very seriously and he was a well-respected flight Engineer. Noted on a performance report, the Aircraft Commander stated "as Senior Petty Officer Kaczmarek controlled his crew with fairness and was instrumental in maintaining harmony amongst all crew members". This was the way Chief Kaczmarek lived his life, as a fair, honest, loyal, hardworking, independent man. Walter's love of family and friends was obvious to those who knew him, just like the young boy who toiled daily to support his family, Walter never complained always putting the needs of others before his own. Walter was a life member of the VFW. He had a deep love for veterans and their causes, and he supported many veteran charities. While fighting for his own life, and with some of his last breaths, Walter talked about veterans and their needs. Walter was laid to rest at the age of 91 on February 13, 2016 with full military honors.

Because of Walter's love and passion for the needs of veterans and their families, The Cost of Courage Foundation will be presenting the first annual "Chief Petty Officer Walter J. Kaczmarek Memorial Scholarship".




​The Cost of Courage Foundation Scholarship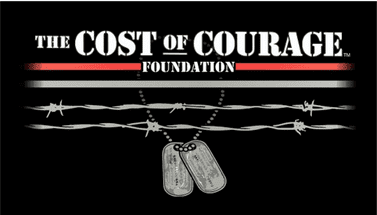 Each year, The Cost of Courage Foundation will select a deserving Veteran who embodies the spirit of service in conjunction with the pursuit of educational goals. The recipient of this scholarship must exemplify a desire to carry forward their experiences in the military and use those as motivation to continue serving beyond graduation from college

​
​Essay Application
The Sgt. Donald E. Fitzmaurice Memorial Scholarship, The CPO Walter J. Kaczmarek Memorial Scholarship and The Cost of Courage Foundation Scholarship will be awarded annually to three (3) deserving Veterans seeking assistance with college education expenses. The Veteran must already be enrolled in college at the time they are applying. One Veteran applicant will be selected for each scholarship opportunity.
By completing the application below, Veteran applicants will be applying for all three scholarships. Please do not submit an application and essay for each scholarship offering. All essays must be typed and shall be a minimum of 500 words.
The window for the 2017 application acceptance begins on January 1st and closes on October 1st.
The scholarship will be awarded on Saturday, November 11, 2017.
The Scholarship Recipient must be present at the Scholarship Banquet in San Jose, California on Saturday, November 11, 2017.Failure to attend the Scholarship Banquet will forfeit Scholarship Award.
Please complete the application below and either mail your completed application and essay to
P.O. Box 32909, San Jose, CA 95152-2909 or scan and e-mail your response to admin@thecostofcouragefoundation.org.
If you have any questions regarding instructions on the attached application, please call
(408) 396-5167 or e-mail admin@thecostofcouragefoundation.org.
​


Please click below to access the PDF version of the 2017 Scholarship Application!




Application Review & Selection Process

Essays will be reviewed by the Board of Trustees of The Cost of Courage Foundation following the close of the Essay Application window and subject to the completion of deliberation the winner will be announced. All decisions deliberated by the Trustees of The Cost of Courage Foundation are final. Applicants not selected for the scholarship may apply for subsequent Scholarships the following year which will be subject to the same rules outlined in this site.



Scholarship Award

The scholarship winners will be notified via e-mail. An announcement will be made on The Cost of Courage Foundation website and on the non-profit's social media pages. The scholarships in the amount of $500 per award will be presented to the winners.




2016 Scholarship Awards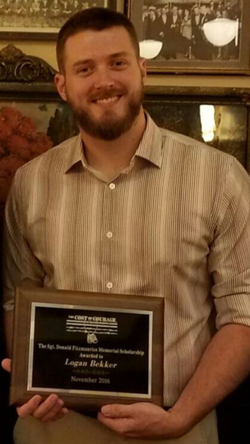 Logan Bekker
Sgt. Donald Fitzmaurice Memorial Scholarship
​
San Jose State University
USMC Veteran
We are proud to award the Sgt. Donald Fitzmaurice Memorial Scholarship to Logan Bekker! Logan is currently a Senior at San Jose State University pursuing a degree in Mechanical Engineering. Logan served two tours in Iraq as Marine Infantry between 2004-2008 and credits the experiences that he had in the military with shaping who he is today. Due to the type of fighting in Iraq, Logan found himself in situations where solutions to problems were very reactionary because ground forces could not anticipate the tactics used against them and had to quickly adapt to the enemy. This inspired Logan to think outside of the box and determine solutions that would benefit his unit and others in the military encountering the same problems. The spike in IED's led to more armor being added to the Humvees Logan's unit was using which was counterintuitive while the use of DAPs diminished mobility. Though solutions didn't come while Logan was still serving, he was inspired to take his knowledge of what wasn't working and fix it for the future servicemembers who would no doubt encounter the same problems. After he was discharged in 2008, he met a friend who was pursuing a mechanical engineering degree and after learning more about it, realized that it was a career path he too wanted to follow. Upon graduation, Logan hopes to find a position that will allow him to develop solutions to the equipment inefficiencies so that the battlefield can be well-equipped to ensure the success and improved safety of his brothers and sisters fighting overseas. On behalf of The Cost of Courage Foundation, we want to congratulate Logan as this year's recipient of the Sgt. Donald Fitzmaurice Memorial Scholarship!

​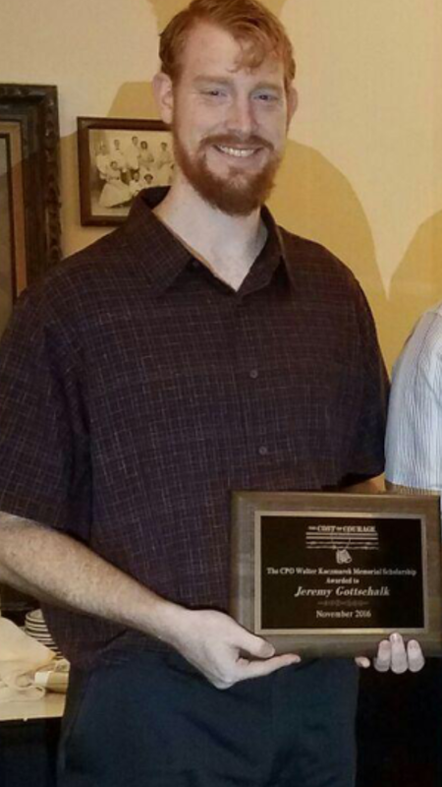 Jeremy Gottschalk
CPO Walter Kaczmarek Memorial Scholarship

University of the Pacific
U.S. Navy Veteran
This year's recipient of the CPO Walter Kaczmarek Memorial Scholarship is Jeremy Gottschalk! Jeremy is a Sophomore at University of the Pacific majoring in Computer Engineering. Jeremy served in the Navy from 2004 to 2015. After overcoming adversity in his youth, he joined the military seeking to improve his circumstances and to grow as a person. Jeremy comes from a long line of family military service so serving his country seemed like a natural step. In the Navy, Jeremy worked as a cryptologist which gave him the opportunity to have many unique experiences, including fighting pirates aboard the USS Boxer, hunting terrorists in Africa and working National Security at Fort Meade and in Hawaii. All of this experience prepared him for the future and inspired him to pursue a career in government leadership – specifically in analytic reporting and computer security. In order to achieve his goals, Jeremy is working hard to earn his degree at UOP and says that the school has accommodated him in ways he never could have imagined and has helped ease his transition from military to civilian life. He is currently Editor in Chief of the school's newspaper and is an active member of the Student Veteran Organization on campus. Jeremy's commitment to service and his positive attitude embodies everything that this scholarship stands for and we are so honored to award it to him. On behalf of The Cost of Courage Foundation, we want to say congratulations Jeremy!

​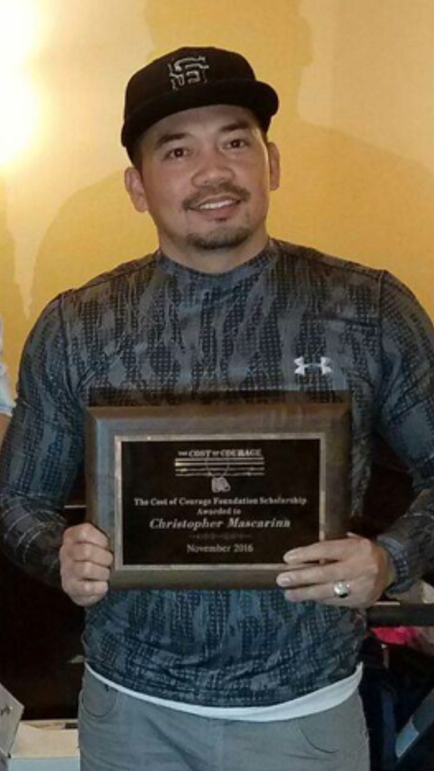 Chris Mascarina
The Cost of Courage Foundation Scholarship

Mission College
U.S. Navy Veteran

This year's recipient of The Cost of Courage Foundation Scholarship is Chris Mascarina! Chris is currently a student at Mission College pursuing a degree in Nursing after serving in the Navy from 2001-2015 where he participated in a variety of different conflicts. As a Navy Corpsman he spent most of that time attached to US Marine Infantry Units. Chris deployed twice on a ship to Iraq with the 1st Marine Division. Being a Corpsman allowed Chris to treat casualties on the spot and provide emergency medical interventions to save lives. When Chris returned from deployment some Marines in his unit started showing signs and symptoms of PTSD and some even lost their lives because of it. This inspired Chris to think deeply about what he wanted to do with his life which led him to believe that he could do more to help his fellow Marines who were struggling. For this reason, he decided to pursue a Bachelors in Nursing so that he could apply that skill in his current capacity in the US Navy Reserve. His plan after graduation is to join the US Navy Nurse Corps Officer Program so that he can be a resource to wounded, ill and injured servicemembers. Chris has given so much of himself to this country and has sacrificed a great deal of time with his wife and daughters. For this reason, we are so honored to be able to award this scholarship to Chris. Congratulations Chris!




2015 Scholarship Award

The Cost of Courage Foundation was proud to honor US Navy Veteran Roger Ourthiague, Jr. as our first-ever recipient of the Sgt. Donald Fitzmaurice Memorial Scholarship! Congratulations Roger! You are incredibly deserving and we wish you the best of luck in your pursuit of a college education as a student at San Jose State University!